When looking for a rental house or building a home, you always plan for a bedroom with a closet. A closet will enable you to keep your bedroom neat and in order. But must you have a bedroom with a closet?
Most states don't have codes that require a bedroom to have a closet. However, some people don't view a room without a closet as a bedroom. For example, in the real estate industry, a good bedroom must have a window, a door that can be closed, and a closet. But it's important to work with your local area code regarding a closet in the bedroom.
But if your bedroom doesn't have a closet, there is no need to worry because there are alternatives. Read on and learn more about closet alternatives and the types of closets to install in your bedroom.
Alternatives to Closet in Bedroom
If your bedroom doesn't have a closet, it's best to work with alternatives to fulfill your needs. The closet alternatives you can opt for include;
Clothes Rack
If you don't want to stack your clothes in a suitcase because your bedroom doesn't have a closet, consider bringing in a clothes rack. Clothes racks are cheaper, and the trendy designs will make your bedroom look different. Look for a ready-made clothes rack online and arrange your clothes well. But you can also make your DIY clothes rack by following various tutorials on YouTube.
You Can Check On Amazon: Click Here
Under-Bed Storage
You can also use under-bed storage to keep your clothes in a bedroom with no closet. You can use baskets or plastic storage bins to create your under-bed storage system. But there are some beds with pre-built storage you can buy.
Consider your bed's height when using bins or baskets as under-storage compartments. This is because beds that sit close to the ground won't allow you to fix the storage baskets easily.
Closet Rods
Another way to store your clothes in a bedroom with no closet is using closet rods. The rods have adjustable lengths, which enable you to install them on your bedroom walls. You can also attach the affordable rods to small metal shelves where you can keep your folded clothes.
Opting for closet rods is advantageous because you can later transfer them inside your closet if you decide to upgrade. You'll also have a chance to see all your clothes making you not neglect some, as with a closet.
You can Check on Amazon: Click Here
Wardrobes
You can use wardrobes to keep your clothes without a closet in your bedroom. The wardrobes, like closets, require space. So you need to create enough room for them. The main difference is that a wardrobe is much slimmer than a closet and is available in different colors. You can even buy a wardrobe with drawers and rods to enable you to store your folded clothes, accessories, and shoes. When you opt for wardrobes, be ready to spend more as they are bit expensive and bulkier.
You can check on Amazon: Click Here
Shelves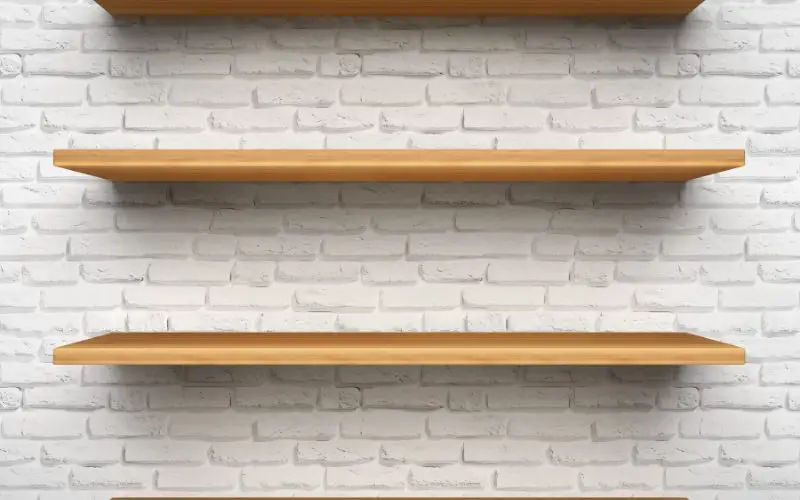 If you don't have closets in your bedroom, why not try using shelves to keep your clothes and any other accessories? The shelves are affordable and easy to install, and you can fix a rod below it to hang more clothes. Shelves are a good alternative since they save up enough space, especially if you fix them on the walls near the ceiling. You can also choose floating shelves, although they are expensive.
Baskets and Trunks
Baskets or trunks can also come in handy when you don't have closets in your bedroom. Look for beautiful baskets or trunks that will uplift your bedroom look. You can choose the multipurpose trunks, which add up as seats and storage. These storage alternatives can also help you keep away clothes and shoes you no longer use.
You can check on Amazon: click here
Types of Closets in bedroom
If you have enough space in your bedroom, don't opt for closet alternatives. Instead, install your preferred type of closet which depicts your personality. The types of closets you can fix in your bedroom include;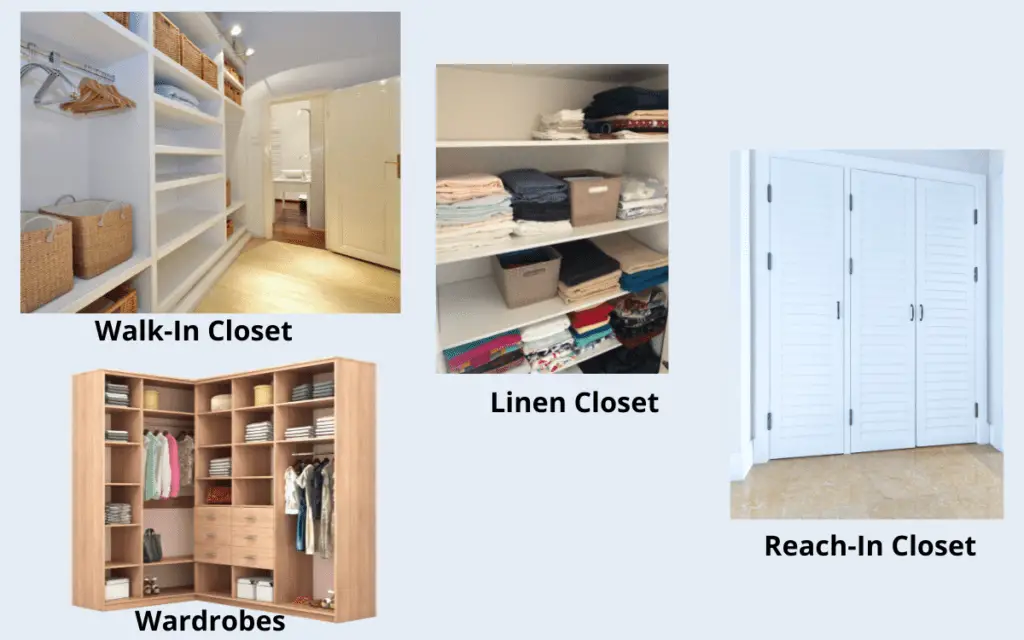 Walk-In Closet
Consider installing a walk-in closet if you want something classy in your bedroom. It requires enough space but makes the room look beautiful. Some closets also have windows to help regulate the temperature within. The walk-in closets have drawers where you can store accessories, with some having sliding shelves.
Reach-In Closet
This is one of the popular closets in most bedrooms. But it's smaller than walk-in closets and for hanging clothes through a rod within the closet. Currently, the reach-in closets are undergoing modifications. The closets are now an arm's length deep and 3 to 8 feet deep. They also have partitioned hinged doors or sliding doors to cover the clothes. What's good about this kind of closet is it has drawers that enable you to store your documents, jewelry, and lingerie.
Linen Closet
Another type of closet for your bedroom is a linen closet. It's smaller than a reach-in closet, and you can fix it between your bathroom and bedroom in the hallway. You can use it to keep your towels, bedsheets, or new pillows. Some people also store their dryer or washer in a linen closet.
Wardrobes Or Armoires
This type of closet resembles a cupboard but works as a wardrobe. You can buy it or design yours in different sizes or patterns depending on its purpose. Wardrobes help enhance the look of your bedroom without covering much space.
Bottom Line
A closet in the bedroom enables you to keep this room neat and organized. However, it's not a must for every bedroom to have a closet. When your bedroom doesn't have a closet, the alternatives can still work well. If your bedroom has the space, then don't deny yourself the luxury of having a modern closet such as a walk-in closet. 
Read More About Bedroom: Should Bedroom Furniture Match? (Find Out Now!)
Thanks for your feedback!