Your bedroom is one of the rooms that require special attention to look neat and beautiful. You can decorate this room with different elements according to your personality. One of the things that make a bedroom functional and beautiful is furniture. But should your bedroom furniture match for your bedroom to look beautiful?
It's not a must for your bedroom furniture to match. You can mix and match elements in the bedroom to create something unique and natural, as well as bring out your personality. Play around with textures and wood finishes to make your bedroom elegant and luxurious. However, if you want to match your bedroom furniture, that's possible as long as you're comfortable with the resulting outcome.
This article tells you more about matching your bedroom furniture. 
How To Match Bedroom Furniture?
Since your bedroom brings out your personality, you should mix and match the furniture in this room to create something you love. First, start by choosing a theme you like. Look for a concept you can easily achieve without including a professional. It could be a rustic feel, a minimalist design, or a cozy design.
After that, try out the concept with a few pieces of furniture to see if it will achieve your design. You can begin by testing the design through your bed frames or rugs. Then go bold and bring different styles and furniture to portray your personality.
You can achieve this by being creative and playful with the furniture in different ways. Here are some of the things you can try and see if it works.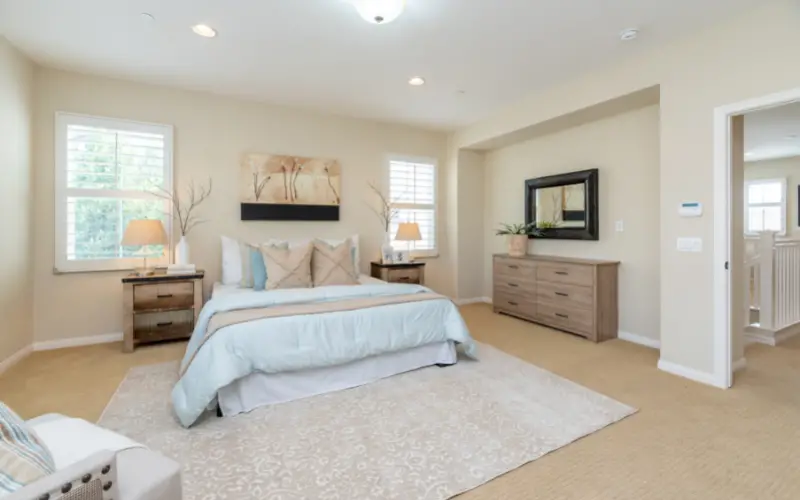 Blend Texture and Material
You can create a unique design in your bedroom using furniture of different textures and materials. Look for amazing textures and blend them with quality materials that will make your bedroom extravagant. For example, you can bring a wicker basket and a wooden table in the bedroom. If you mix different textures and materials, you can work with a given color but get a chance to play with layers.
Introducing Different Shapes
The bedroom furniture comes in different shapes and styles. You can take that to your advantage and bring different shapes and sizes to the room to make it look attractive. Have your nightstand, shelves, and dresser in different shapes you love. They can be rectangular, square, or ovals. Then place them where they will be the focal point in the room.
Mix Different Styles
Bedroom furniture comes in different styles, which you can use to create a unique look. Do this by matching the drawer handle pulls and the other bedroom furniture hardware. To create something unique, you can also have a nightstand and a bed in different styles. For example, have a rustic dresser and a modern bed. However, consider using the same furniture style in your bedroom if you want to keep things simple. Then ensure they have different colors and textures.
Create Contrast
You can also create contrast with your bedroom furniture and bring out something unique. Use different materials and styles to make a difference. Avoid screaming colors in the bedroom, as this should be a peaceful room. Instead, think of mixing natural materials with metallic finishes. For example, you can have a wooden headboard and match it with a metal nightstand.
You can also create contrast through color. For example, have white shelves, a dresser, and a dark brown nightstand.
Mix Colors
Nothing brightens up a room like pomp color. So, if you love colors, use them to brighten your bedroom. Try blending rustic-looking furniture with different hues pieces. You can have a dark brown bed and a white drawer. When you decide to play with colors to match furniture in the bedroom, select a dominant color. Then ensure the dominant color is in most of the furniture to match everything. It's advisable to use furniture with variations of warm wood to create a unique look.
Play Along with Textures
You can also create a fantastic look through textures. Use different material furniture in your bedroom to achieve this. You can have a metallic bed and match it with a glass nightstand. Alternatively, you can have a fluffy blanket and an accent chair without interfering with their tone. You can do this while still maintaining your favorite color.
Should Your Nightstand Match Your Dresser?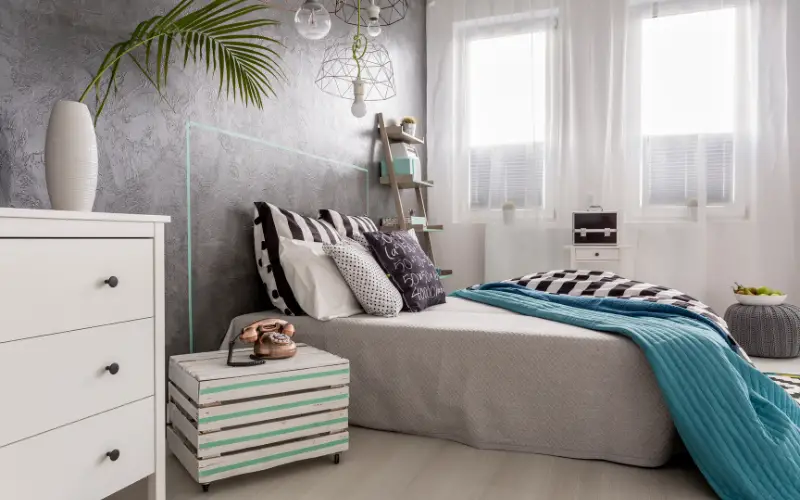 Even though furniture stores are expanding their territories with some selling online, customers don't buy a full bedroom set. This means most people don't match their dressers and nightstands. So, what you should do in your bedroom is introduce a nightstand and dressers that complement each other. Let the two complements the other décor elements in your bedroom to create harmony and a luxurious look.
You can let your nightstand and dresser complement each other through;
Style
You can work with a certain style in your bedroom to have your dresser and nightstand complement each other. If you have a Scandinavian-themed bedroom, let your nightstand and dresser be different but complement the theme. But don't have clashing colors on either of the items, as this will not create harmony.
Color
Another way to match the nightstand and dresser is by using colors. Look for complimenting colors that will also match the rest of the room. But the colors don't have to be the same. For example, have a white dresser and let the nightstand match your bed's frame. White is a neutral color that will compliment the rustic nightstand and bed frame.
Material
You can use different materials to have your nightstand and drawer complement each other. When you opt for this, ensure the materials match in some ways. You can work with a boho theme and have them in the same shape and color.
It's also possible to have the nightstand and the dresser in the same material but in different designs. For example, have a wooden nightstand and dresser but let their color and finish differ.
Finish
You can have your nightstand and dresser compliment each other by having them in the same finish. When the two have the same finish, there is a way to differentiate them. You can let the nightstand and dresser have a light wood finish. Then have the painted while the dresser with no paint.
Alternatively, you can paint the dresser's drawers, have it match your bed, and have the nightstand in a neutral color.
Should A Nightstand Be Taller Than the Bed?
Usually, you place a nightstand beside your bed, which acts as a convenience point. You get to put important things you might need while in bed on the nightstand, and it should be within your arm's reach. So, you need a taller nightstand than the bed to enable you to reach for your items without challenges. A nightstand should be the same height as your mattress to prevent you from stretching too much when reaching for items.
Bottom Line
Even though matching furniture seems to be an outdated practice, you can still do it. You can be creative in your bedroom and match different styles, shapes, and furniture colors to create something unique. When you decide to match your bedroom furniture, ensure you go with what pleases you to avoid making the space boring. Create a theme that you'll love to have for years and that brings out your personality. 
Thanks for your feedback!