Have you just completed building your home or done with the renovations and wondering what to do with the foundation? Well, foundations hold up your house and contribute to the aesthetics of your home. That is why the question of painting the foundation is a critical one considering the different types of materials used here. So, keep reading.
Yes, it would help if you painted the foundation of your home. Doing this will result in tremendous benefits, such as having an aesthetic value in the home and protecting your foundation walls against UV and moisture damage.
Therefore, we will explore why painting concrete is a good idea and the types of colors to use. You should be able to make a solid decision at the end of this post concerning your foundation. Read on to the end.
Is Painting Concrete A Good Idea?
It is the best thought you can have, especially with the critical nature of concrete in buildings. As a common construction material, concrete contains surface pores on the walls. It contributes to inconsistency and cracks, which may sometimes cause crumbling.
However, you can turn your odd-looking concrete wall into a magnificent space with the right paint and correct painting procedure. Painting concrete is recommended because:
It is economical
It is easy to apply
You can select from various colors
It contributes to uniformity
It prevents mold growth
Remember that paint can peel and chip over time, especially when the preparation is not done well. That is why you need to have some basics when it comes to applying paint on concrete, such as:
First, cleaning the surface of the concrete wall
Choosing the right type of paint
Applying the paint with a recommended masonry paintbrush
You will give your concrete foundation a more appealing and tenacious look by following the right procedure. The right paint will help you bring an old-looking concrete foundation to life.
Should House Foundation Be The Same Color As House?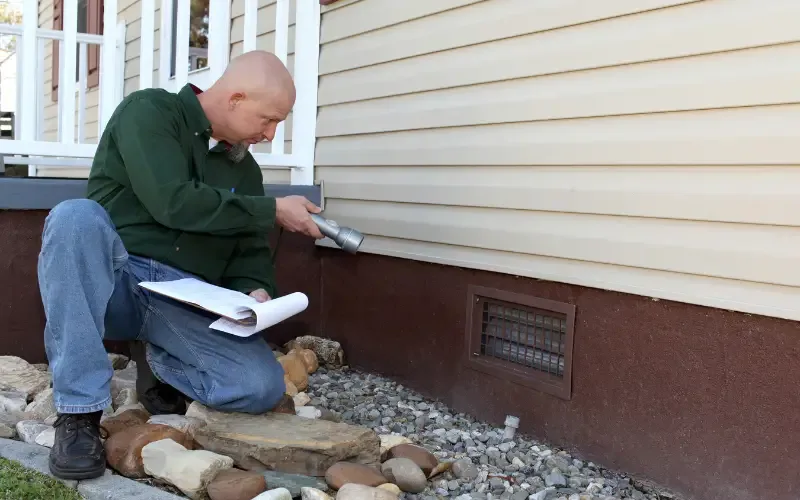 Choosing the color for your foundation and the house's walls will determine key aspects of design and aesthetics. The foundation colors should always be complementary between earth and slate.
Therefore, most designers recommend that the side color and the foundation be equally dark or similar in color. The symmetry and elegance that this creates are ones that anyone visiting the house cannot fail to notice.
When you coordinate the house foundation color with that of the walls, you produce a unique blend that lights up your home. Different colors can cause jarring with the high contrast between the two, undermining harmony and unity.
You can consider complementing a deep color or shade on the wall with the exact match on the foundation to achieve a perfect blend. It's an exercise that requires expert advice, and you would do well to consult a professional before working this out.
If, for instance, you paint your walls white, you can choose a black foundation. In the same breadth, contrasting the color of the foundation with an opposite color helps you achieve a good home feel.
What Type of Color To Use?
It is a critical aspect that involves deeply examining your home and researching the various colors available. When choosing the color for your foundation, you will have to bear in mind:
The climate of the place
Paying attention to fixed elements (such as concrete, stone, brick, or slate)
The maintenance costs involved
Having stated that the foundation color should either be the same or darker than the sides, you should consider your house's final outlook. What home style do you want to achieve with the paint treatment you apply?
Now, the recommended concrete paints for foundations include:
Concrete floor paints resist gasoline stains, grease, and peeling caused by moving items.
Waterproofing masonry paints: They are commonly used in masonry and brick applications. These paints are a good choice for foundation walls and concrete basement painting.
Concrete patio and porch paints resist peeling, fading, and UV damage. You can also use them for interior concrete floors.
These paints chemically bond with the concrete to help you have your desired outlook. Let us now explore the types of colors to use:
Off-whites,
Light grays,
Light hues
Neutral shades
Remember that the color you use will either heat up or radiate your home. Also, different colors have various drying times. You should consider all these factors before choosing a specific type of color or paint for your foundation.
Equipment To Use When Painting Your Foundation
The equipment used when painting determines your foundation's texture and general fill. Therefore, a roller is the most preferred painting tool for this work.
Ensure that you clean your roller with warm and soapy water before using it. A dirty roller will produce paint caked with grime and dirt. That is not something you will want for your foundation!
Using such equipment also requires mixing the concrete paint to the proper consistency. Once you do this, you can then pour it out onto the painter's pan. Other complementary tools that you should have for this task include:
Tape and tarp for covering adjacent objects from getting painted
Seal and prime for absorbing and conveying the water
It is also advisable to use multiple thin coats for such a painting job. Before making another application, wait for at least one day.
General Tips to consider
Any foundation paint job aims to ensure that you achieve the best results. Therefore, using specialized tips and expert advice such as the list that follows will prove essential:
Do not apply more than one heavy applications
Use a paintbrush first to apply paint before proceeding to use the roller brush
Keep your strokes consistent
It is best to wait until the first layer is completely dry before applying the second coat.
The skill of painting is one that anyone can learn, especially with the Do-It-Yourself tutorials available on YouTube and other online platforms. Once your foundation surface is clean and you mix the paint correctly, you should not have any problem painting your foundation.
Final Remarks
The benefits of painting your home's foundation are tremendous, and the process is straightforward. Always ensure that you prepare adequately and take the necessary safety measures when doing this job. You will have a brilliant and radiating home with the right color and type of paint on your foundation.
Thanks for your feedback!