A fence's main purpose is to secure the people and animals who stay in the home. It also helps beautify your house and prevent intruders from invading your property. But can you put two fences back-to-back?
Yes. It's legal to build two fences back-to-back.  A fence next to your neighbor's fence is okay, provided it's within your property line and the rules and regulations of your area. You can do this if your neighbor's fence doesn't appeal to you or you can't come into an agreement to erect a fence for both of you. However, when you build a back-to-back fence, ensure it's some meters away from your neighbors to avoid interfering with the existing one.
Read on to learn everything you need to know about building a fence back-to-back.
Can I Legally Build a Fence Next to My Neighbors?
It's legal to build a fence next to your neighbor's fence. One of the reasons that can prompt you to create a fence next to your neighbors is if their fence is unattractive and you're looking for a way to block its view from your side. But it has to be on your property line.
If you intend to build the fence directly on the property line, it's best to seek your neighbor's permission. It's advisable to talk to your neighbor before installing the wall to let them know of your intentions. 
However, if you're not on good terms with the neighbor or they refuse to give the go-ahead, don't build the fence next to theirs directly on the property line. Instead, make it inside your property line to avoid legal actions against you. Remember building the fence some inches away from the boundary doesn't interfere with the boundary.
Can You Install Two Fences on The Property Line?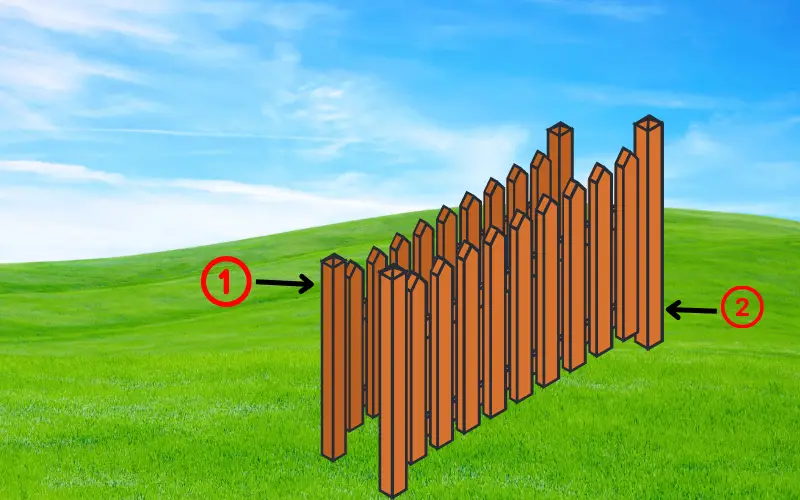 This depends on a lot of factors. First, you can put two fences on a property line if you join an existing fence. You can ask your neighbor to allow you to install your fence between theirs and get a contract to protect yourself.
Also, when you plan to install two fences on a property line. If your homeowner's association has guidelines on how far you can install a fence, stick by the rules to avoid fines.
Remember, fences should be about 2 to 8 inches from the property line in most areas. So, you can decide to place one fence inside the property line while the other one is directly on the property line.
Who Pays for Fence Between Neighbors?
The person who should pay for the fence between neighbors varies according to the local fencing laws or homeowners association regulations. The law requires you to share the bills if you share a fence with your neighbor or the fence is on both of your property lines. You should share the expenses during the installations and repairs of the fence. This is because it's assumed that both neighbors will benefit from the fence. 
Always Notify Your Neighbor 
But ensure before doing any repairs or installations, you get to notify your neighbor. Tell them the kind of fence you'd like to install. If you are planning repairs, explain that in detail for accountability and to have them be part of the process. 
Also, don't forget to review the property line before doing anything on the fence to have everything clear. After that, check any zoning regulations about the fence like height and materials to be used according to the city or homeowners' association.
If there is a disagreement and one party fails to do their part, the other neighbor can sue them for the unpaid expenses. You can serve the neighbor with a fencing notice and let them take the responsibility.
A Shared Fence Etiquette
When installing a fence, it's best to consider your neighbors. Choose a fence permitted in the neighborhood and let it appeal from your neighbor's side. You should let the finished side of the fence face your neighbor's side. This will make the neighbor's side look attractive, not prompting them to install another fence to block the ugly side.
You can consider installing the fences with identical sides or the good neighbor fences which look good. The double-sided fences also look nicer and stronger.
Then make it a habit to maintain your fence to have it clean and in the best shape. This will make the neighborhood look well-kept, increasing the property's value.
Can My Neighbor Attach Things to My Fence?
The simple answer to this is no. If you haven't given your neighbor permission to attach things to your fence, they shouldn't stick anything to it. You should, however, know that a good fence makes good neighbors. So, if the neighbor seeks your permission to hang things on your fence, it's best to allow them to do so. Ensure the things they will hang on your fence won't damage or affect its beauty.
What If It Happens
There are instances when your neighbor can do this without your permission leading to a conflict. In this case, you should let the neighbor know that's your legal fence if it's not a shared one. Talk to the neighbor to help get a solution to this problem. Tell them you don't like whatever they've hung on your fence and suggest how to resolve the issue.
But if the neighbor turns rude, walk away and consider introducing a third party into the matter. If that's a rental place, talk to the landlord and explain your concerns. The landlord will look for legal ways to have your neighbor remove the unwanted things from your fence. 
Working with a mediator service can also help solve the matter. The mediator will be a non-partisan party who will help resolve the issue amicably without favor, but you have to pay for such services.
Bottom Line
Having a fence on your property helps secure and make it beautiful. But before installing it, ensure you know the guidelines from your city, county, or homeowners' association. Also, work with your neighbor to avoid conflicts when you have a shared fence.
Thanks for your feedback!