Some metal roofs crack or peel, making you have an unattractive roof over your beautiful house. Other times it's the color of the metallic roof that's not appealing to you anymore. All these cases can make you consider painting your metal roof.
Yes, you can paint your metallic roof to your desired color. A painted metal roof not only looks better but will also last longer. You can apply oil-based alkyd or acrylic paint for the metal roof.
All you have to do is ensure you prepare the surface well to make the work easier. You also need the right paint that will stick perfectly and do several coats to get the desired results. 
Are you looking forward to painting your metal roof? Read on to understand more about how you can paint a metal roof.
Painting Your Metal Roof
Painting the metal roof will act as an additional layer protecting it from damages. It will also make your roof look fresh and durable, reducing maintenance costs. Your roof won't have frequent leaks or pits, which can spoil during the bad weather days.
However, you need to remove all the dirt like oil to make the paint hold well. Also, choose the suitable primer and paint you'll use for this process.
Don't forget to use sealants to hide stubborn dirt and stains on the metal roof. Even though this can be a tiresome job for a DIY project, it's advisable to work with a professional to save time. But if you can do it, be ready to work for many days as it's an involved process.
How To Paint a Metal Roof? (Step by Step Guide)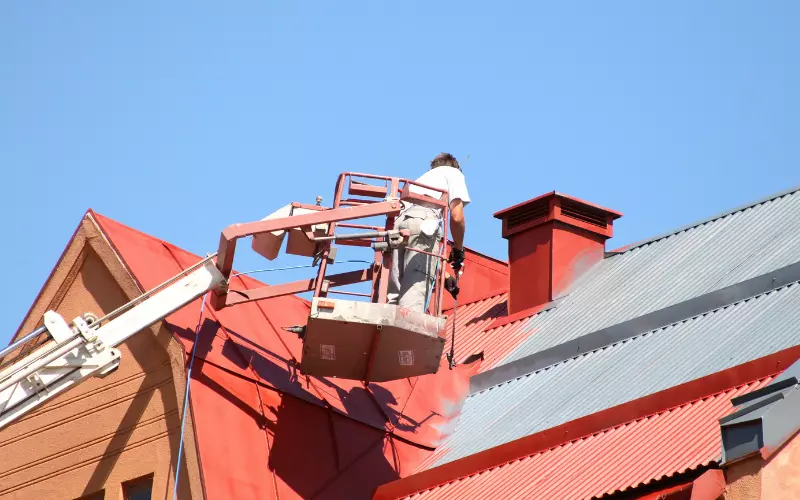 Get Rid of The Old Paint
Before applying new paint, the first thing you need to do is remove the older one.
You can do this by scraping off the paint using a paint scraper or putty knife. Gently press the scraper to avoid damaging the metal roof.
You can also scuff the roof with grit sandpaper to enable the paint or primer to hold better. But this is ideal for smaller roofs as they can be more involved.
Eliminate The Rusty Edges
After that, do away with the rusty edges on the metal roof. You can use vinegar to remove the rusty patches.
Alternatively, scraping them off with a putty knife can do.
Wash The Roof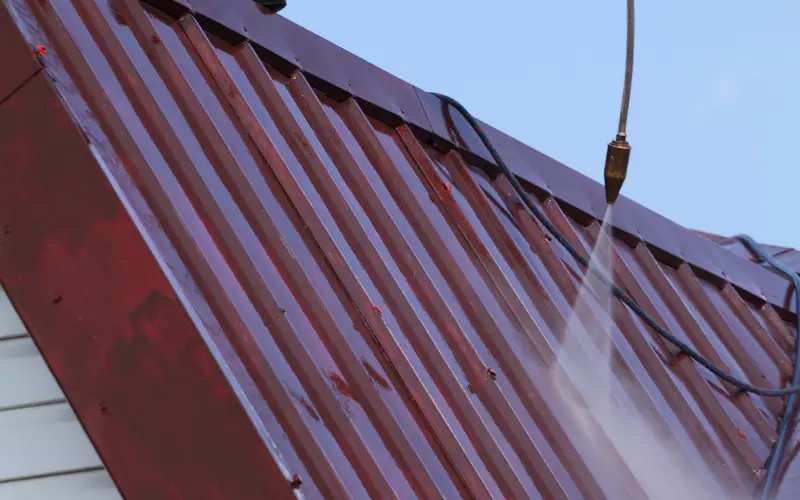 Use a power washer to clean the roof and remove any remaining paint you might have left behind.
Washing the roof will also help you get rid of any dirt and make it easier to apply the paint. Ensure you clean the whole roof to have an easy time working on it.
Give the metal roof about one hour to dry off. If it's sunny, this might take less time, so check after some time to confirm if the roof is dry.
Paint The Roof with New Coats
After washing the roof, the next step you need to do is to apply the paint. Do the painting on a day when the weather is favorable. You need to paint when it's not raining or too hot to work on the metal roof.
The rains will wash away your paint while the sun will make the metal too hot to hold.
Primer The Roof
Primer the whole roof using a paint roller or paintbrush.
Apply one coat of the primer and ensure you do a thick coat and don't leave any area unattended.
Pro Tip: You can use a ladder to elongate your height and reach the hard-to-reach corners of the roof.
Then wait for about an hour for the primer to dry off. However, this will largely depend on the weather condition and the type of primer you're using.
You can check on the instructions to know when you should leave the primer to dry.
Paint The Whole Roof
After priming the metal roof, wash off the primer from the roller or use a different one that hasn't been used.
Apply enough paint all over the roof to hide other imperfections left after priming. Then give it time to dry, which can be at least an hour.
After that, apply the second coat to make your roof have the perfect shine and look neater.
The additional coat will also act as a protective layer making your metal roof last longer. It will also make the color look wonderful.
But if this doesn't happen, consider doing a third coat after the other one cures off.
Which Paint Should You Use on Your Metal Roof?
Before settling for any paint for your metal roof, it's advisable to talk to a professional. You'll get the best paint choice through their advice, which also meets the homeowner's association regulations.
Furthermore, you need to ensure the paint is compatible with the kind of metal your roof is made of.
For example, you should paint acrylic-based paint for a galvanized metal roof, while terne metal roofs work best with oil-based paint. So do put this into consideration before settling for any paint.
Color Choice for Roof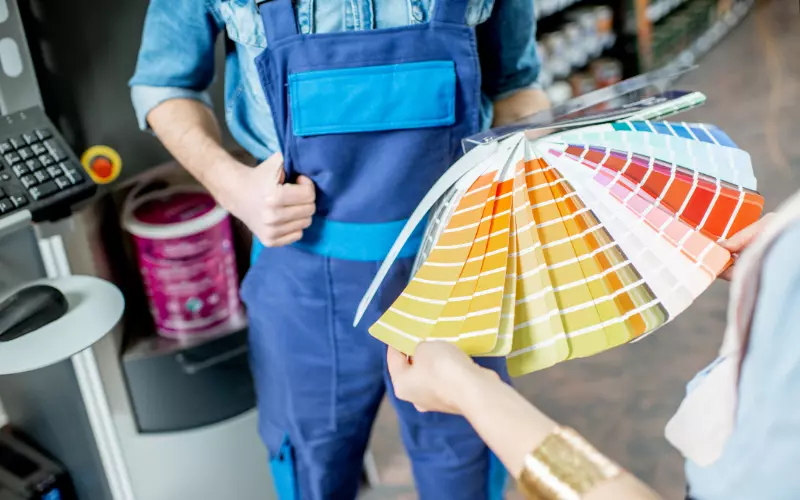 Go for a color that matches your theme or the walls of your house. Don't have similar colors for the walls and the roof but instead opt for complimenting colors.
For example, when the walls are neutral, do a brighter color for the roofs. But if you've brick walls, look for the best color that will match them since you can't change the rustic look.
Also, go for a primer that's meant for metal roofs. This you can get at a local store or online. Primers will help prevent your metal roof from rusting, making it durable and maintaining its sheen for longer. 
Note that good paint for your roof should be water-resistant, fire-resistant, and UV resistant. If possible, choose one that's also insect-resistant to enable your roof to serve you for long. You can consider the following points for your metal roof;
1. Rust-Oleum Roof Accessory Spray Paint
This is an oil-based paint that will give you an easy time during application as you'll spray it on the roof. It will make your roof look glossy as it consists of enamel. What's more, its beautiful finish will make your roof look distinctive.
It's easy to apply and durable, preventing you from unnecessary costs of doing repairs on the roof. This paint also holds well on metallic surfaces due to its texture, making it the right choice for your metal roof. It's also water-resistant and rust-resistant, so it'll serve you longer.
Pros
It doesn't fade
It's durable
It holds well on metallic surfaces
Cons
Its real color tends to be different from those on images
2. Liquid Rubber RV Roof Coating
If you want to protect your metal roof consider painting this paint which is UV resistant. It will also help make your house cool especially during the hot summer. This paint will last longer as it has high adherence properties. It's waterproof and doesn't have any bad smell that can interfere with your breathing system. You will also have fewer challenges applying this paint as it's sprayable.
Pros
Its UV resistant
It doesn't have an unpleasant harmful smell
Cures well on surfaces
Cons
Requires a lot of time to prepare
3. Jetcoat Cooling King Reflective Acrylic Roof Coating
Another best paint you can consider for your metal roof is this one by Jetcoat. The acrylic-based paint will protect your house from UV rays making it comfortable to stay in. It will also make your roof durable. You will spend less money as it's cheaper and thicker covering a larger area.
You will also not struggle to wait for this paint to dry off before applying the second coat as it dries off within 3 hours. However, you need to store it well in temperatures not less than 50 degrees Fahrenheit.
Pros
It takes less time to dry off
Its UV resistant
It's affordable
Cons
Not the best choice for gravel or flat roof
4. Valspar Metal Siding and Roof Finish
If you want vibrant paint on your metal roof, this is to go for. This green paint has a glaze finish which will make your roof attractive. The best thing about it is that you can apply it directly on the roof without a base coat. It's mold and dew resistant and repels water and UV rays. However, it takes more days to cure.
Pros
It's waterproof
It prevents mold growth
 It allows for direct application
Cons
 It takes more days to dry off
Factors To Consider When Buying Paint for Metal Roof
Before investing in any paint for your metal roof, you need to consider factors. They include;
The Color of The Walls
If you want to have an outstanding house, ensure the roof's color and walls complement each other. This will make your home a sight to reckon with and help you maintain your theme. If the walls are neutral, go for brighter roof paint and vice versa.
But ensure you settle for your favorite colors, which won't look boring with time, forcing you to change it prematurely. Also, remember some colors will make your house design look awkward or busy, preventing it from being aesthetic.
Durability of the Paint
You should paint a durable paint to avoid incurring additional expenses after settling for your favorite color. Remember that painting the roof requires you to pay for the labor, buy primer and the paint, which can be costly. A durable paint should be water-resistant, hold well on the roof, and protect it from rust. It should also be all weathered paint that doesn't fade faster.  
The Paint Finish
If you don't want a glossy finish on your roof, go for non-reflective paint. However, you need to know that most reflective paints are UV and heat resistant. So, if you're in a hot area, this is an ideal choice for your roof.
The Kind of Paint to Use
You need to check on the type of paint you're about to buy for your metal roof. However, good paint will depend on the kind of roof you're working on. For example, a galvanized metal roof will do well with water-based paint.
Apart from that, you need to consider the application method. Spray paint will be a good choice if you're doing a DIY painting project as it will take less time and it isn't involved. However, it's advisable to use roll-on paints to withstand the winds, reducing your challenges while painting over the roof.
Coverage
Thick paint is a better choice than a thinner one. This is because you'll not have to do several layers to get the desired results. You can opt for acrylic paint with the best coverage and durability.
How Long the Paint Takes to Dry Off?
Another thing you should consider before settling for any paint for your roof is the drying time. Paint with a longer dry time means you'll have to wait for a long time before doing the second coat. So, if you don't want to wait longer, consider those paints with less cure time. You can check on the labels to know that.
Useful Tips to Maintain a Painted Metal Roof
Even though a metal roof is durable, there is some maintenance you should do for it to last longer. These are;
Clean the metal roof after every six months using gentle detergents. This will help reduce dirt accumulation on the metallic surface, damaging it. Cleaning the roof regularly will help you identify any default and work on it on time.
Trim trees around your roof and remove falling branches to avoid having a dirty roof which will encourage damages.
Repaint your roof after two or three years to maintain its sheen and protect it from peeling or cracking before time.
Regularly check on the metal roof and remove any mosses to prevent it from discoloring or being dirty.
FAQS
What are the benefits of painting a metal roof?
By painting your metal roof, you'll be protecting it from rust and making it durable. You will also make your house look beautiful and unique within the neighborhood as you'll be working with rhyming colors.
How long will my painted metal roof last?
If you did paint a durable and high-quality paint, it would last for about ten years without experiencing much damage. But you've got to do regular maintenance to keep it in good shape.
Is it advisable to paint a rusted metal roof?
Yes. You should paint over a rusted metal roof to prevent further damages, which can be costly to repair. However, you need to use the right paint, which is rust-resistant, like water-based metal paint.
Bottom Line
Painting a metal roof will help it look beautiful and unique within your neighborhood. It will also make your roof durable and reduce your maintenance cost.
You should go for the right paint, which will hold better on metallic surfaces. Also, know when to paint and, if possible, work closely with a professional to avoid making errors.
But don't forget to select your favorite paint color to maintain its appeal over the years.
Thanks for your feedback!