A pool in your backyard will prove useful during family days outdoors as you'll have a common ground to bond. However, before you make your pool, you need to ensure the building materials are quality to have them last longer. Sand under the pool is one of the common materials you'll opt for to help cover the dug floor. However, there are alternatives to sand you can use in your pool.
You can use fiberglass, pebble, vinyl or carpet, and stones. Pebble will make your pool look nice and attractive, while fiberglass will be durable and make the surface smooth. On the other hand, vinyl will be a cheaper option, and carpet will give you a variety of shapes and sizes to choose from.
If you're looking for the best alternatives to sand under the pool, this guide will elaborate on that further.
The Best Replacement of Sand Under Pool
A table of alternative costs and other qualities
| | | | | | | |
| --- | --- | --- | --- | --- | --- | --- |
| Alternative material | Cost | Breathability | Thickness | Installation process | Durability | Feel/look |
| Fiberglass | Depending on the size and features, you can spend between $4000 and $5000. | Good | Good | Easy to install | It's durable-can last up to 25 years  | Provides smooth and even surface  |
| Carpets | Affordable | Good | It comes in various sizes and shapes  | It's easy to install  | Durable | Bumpy |
| Stones | $15000 but can shoot depending on size | Good | Good | Not easy to install | Durable | Elevates the pools look |
| Pebble | $10000 | Good | Good | Easy to install | Durable | Look unique and beautiful |
| Vinyl | $1500-$2500 | Good |   | Easy to install | Durable- can last up to 15 years | It's customizable since it comes in different sizes, colors, and shapes. |
Fiberglass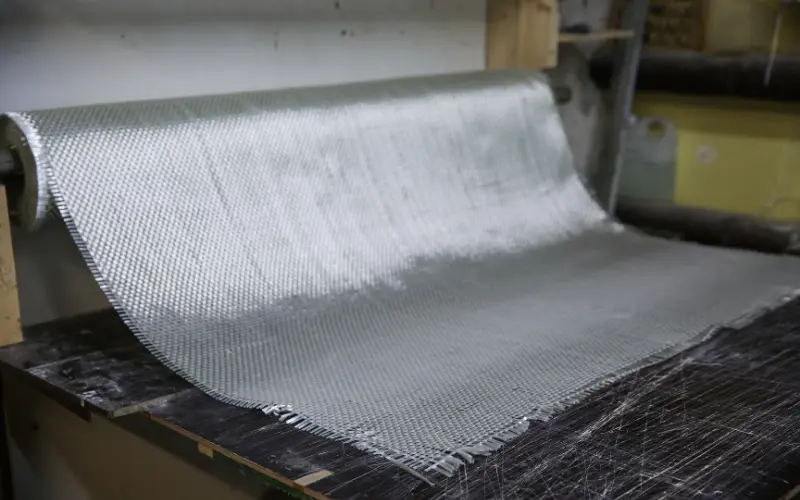 This is one of the perfect alternatives to sand. It's a durable material that is versatile and safe for the body. The smooth surface prevents it from losing water at the bottom of the pool.
Vinyl
You can also use vinyl instead of sand under the pool. Vinyl is cheaper and allows you to be creative as you can come up with your preferred shape and colors. But it can be destroyed by chemicals.
Pebble
Using pebbles under the pool will make it look attractive and unique. It enables you to play about with its different colors and shapes to make a unique design. But it is a bit expensive.
Carpet
You can replace sand with carpet on your under pool. When you go for it, ensure you use thick carpet to have it last longer. Since they are in different shapes and sizes, you'll not have limited choices. But they tend to move about a lot and are bumpy.
Can You Install Above Ground Pool Without Sand?
Yes, you can use other materials instead of sand to install above ground pool. You can use;
Carpet Padding
Carpet padding is used by many people on the above-the-ground pool because it's cheaper. But since it's not thick, you have to use two layers to create a soft cushion. It's also easy to find in the market than the others.
Solid Foam
You can also use solid foam in place of sand above the ground pool. It's thicker, making it a good choice. It also holds well on the abrasive concrete preventing it from constant sliding. You can cut it into your preferred size and shape.
However, its thickness makes it challenging to cut it. It's also expensive, making you dig deeper into your pocket. When using it, ensure it's rated for outdoor use if you want the best results.
Commercial Pads
Another alternative you can go for rather than sand is commercial pads. You should place it over your concrete, and they come in precut, making your work easier. However, if you can't find your pool's size, it's best to get it and make your ideal size.
Since they're stronger and breathable, they will last longer. You will spend more to buy the commercial pads.  
Other materials include;
Stone dust since it makes level ground and isn't movable. Alternatively, you can use vermiculite/concrete mix to install the above-ground pool. This material is durable and strong, making it serve your pool floor for a long time.
A vinyl liner can also do in this case. It is cheap and will allow you to customize your above-ground pool to create a unique design.
Foam Or Sand Under Pool (Which one is Best?)
Both foam and sand are a good choice for the under the pool. You can use one as an alternative to the other one. When you opt for sand for the under the pool, you'll not spend much money as it's not expensive. It's also easy to install, making your work easier. However, you can't use sand with concrete because it won't create a stable ground. Sand will keep moving over the concrete, shifting the pool along. Additionally, insects are prone to burrow in the sand, and they will find their way into the pool.
On the other hand, foam comes in varying thicknesses, giving you many choices to pick from. It also holds better on abrasive concrete, which is unlike sand. It's most people's choice because of its thickness over other thin layered alternatives.
You need to cut it to your preferred size according to your pool's size. However, it's challenging to cut and shape due to its thickness. You should also use a liner over the foam to get the best results.
When you compare the features of the two materials, it's preferable to use foam over-sand. This is because it won't move around, shifting your pool. Insects will also not burrow over the foam as it does on the sand. Additionally, foam can be used with concrete, unlike sand which will cause stability issues. So, it's best to choose foam over sand because of its outstanding features.
Bottom Line
You should create a stable base for your pool for your safety and avoid inconveniences when it shifts.  This requires you to be keen while selecting the right material to place under the pool. You can use sand or other alternatives like stones, pebbles, or carpets. 
However, your choice of the material you'll use when installing an above-ground pool also matters. When making your choice consider your budget, the breathability, and the thickness of the material before settling for the best.
Read More: How To Level Ground For Pool Without Digging (Easy Ways)
Thanks for your feedback!