Carpets help warm the floor during winter and beautify the room through their different patterns. But there are instances where you may want to lay a rug on a carpet. But what if you already have a carpet in the bedroom?
You can put a rug on the carpet in the bedroom. You can lay a rug on a carpet to help hide some blemishes like torn or soiled parts. The mat can also be a way to introduce your style to make the space look luxurious. It can also help add extra comfort to the bedroom floor, providing enough warmth that makes staying in this room worthwhile.
If you're planning to layer rugs on your carpet, this article will show you the best kind of rug to achieve that and much more.
What Kind of Rug Sits Well on Carpet?
When you decide to put a rug on the carpet, you've got to ensure it achieves its main aim. For example, if you want to bring out your style through the rug, use that as an inspiration. You can accomplish this using different rugs which match your carpet. You can use the below tips to determine the kind of rug that sits nicely on a carpet.
Textured Rug
If you love the textured rug, put it over a non-textured carpet. Alternatively, you can have two different textures for the carpet and the mat. Consider adding a thick and luxurious rug on a woven carpet that will make the floor softer and elegant. But if you have a thicker carpet, avoid thicker mats to create contrast. You can opt for a woven or a low-profile rug to create harmony in the space.
Patterned Rug
You can also use a patterned rug to add vibrance to your bedroom. When you opt for this kind of rug, use the color schemes on the carpet to settle for the rug. If your carpet is multi-patterned, pick a neutral-colored and monochrome pattern rug. You can, for example, go for a monochromatic striped rug to match your carpet.
But trying out vibrant patterns is possible as long as you're comfortable with the bold look it creates. You can try geometric patterns or distressed Persian rugs, which are the current trends in most homes. But it's advisable to use one design at a time on your bedroom floor. So, if you have a patterned carpet, avoid a patterned rug.
Colored Rugs
Colored rugs can also make your bedroom lively. However, your color choice must align with the carpet's color. If your carpet has bold colors, choose a rug color that will compliment it. For example, a brown rug will compliment a white carpet. But a yellow rug will do if you have a dull-colored carpet like black.
Sized Rugs
Rugs are available in different sizes, which you should pick according to their purpose. Do you want to bring in patterns or cover the whole carpet with the rug? Or are you trying to break up the space?
A small-sized one will do if you don't want your rug to touch the furniture or walls. However, if you love wall-to-wall rugs, buy a bigger one depending on the size of the room. But avoid introducing a big busy rug on the carpet. Instead, introduce different rugs of the same size that complement each other.
How Can You Keep a Rug Flat on A Carpet?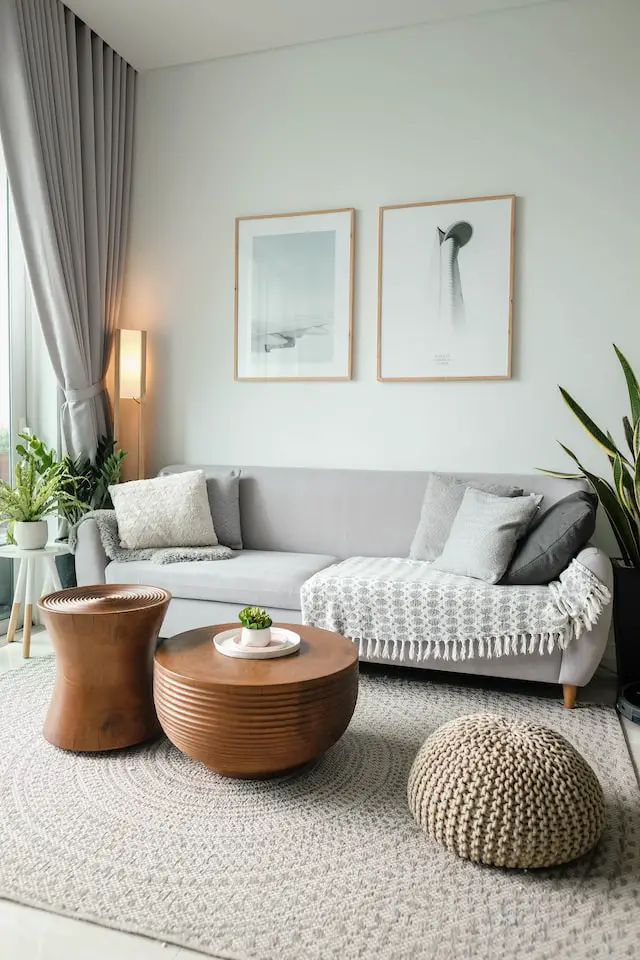 When you put a rug on the carpet, it will likely keep moving around. But your rug being flat on the carpet also prevents ripples or waves from appearing, which can be annoying. To avoid this, you can;
Hold The Rug with Furniture
Most of the time, rugs move around on a non-carpeted floor, making the room look unkempt. However, some types of rugs move around on carpets because of the style or kind of backing they have. To avoid this, you can anchor the rug with furniture. The furniture's weight will keep it put. You can use an armchair or a coffee table in the room to prevent the rug from moving.
Buy Non-Slip Mats
When you decide to introduce rugs on your carpet, buy non-slip mats that will keep them in place. The non-slip mats will prevent you from moving furniture around the house, which can be tiring. The non-slip mats also protect the rugs from rippling, making them last longer.
Where To Put a Rug on Carpet in Your Bedroom During Winter?
During winter, the floors get extremely cold, and you need to look for the best ways to stay warm. You can place the rug and carpet in the right spots. Put a rug on a carpet in areas like;
Next To Your Bedside
Add rugs on the carpet next to your bedside to add more warmth to the room. Consider using high pile rugs, which will be comfortable on the feet.
The Foot of Your Bed
The foot of your bed is another place to set a rug over the carpet. It will reduce the cold reaching your feet immediately after you leave the bed. Remember, this can also help brighten the space by using an oriental rug.
Halfway Under the Bed
If you're not into the above two options placing the rug halfway under the bed will do. It will help soundproof your bedroom and provide a soft landing for your feet once out of bed.
Bottom Line
A rug can serve many purposes when put on a carpet. It can hide imperfections on the carpet or brighten the space. But the kind of rug you use on your bedroom carpet matters. So, choose one that compliments your carpet.
Thanks for your feedback!