A window in your bedroom ensures you've fresh air and sunlight to make it comfortable and worth every moment you'll spend there. But can a bedroom have no windows?
For a room to qualify as a bedroom, it needs at least one window. But this can vary depending on where you live and the local state codes. In some areas, a bedroom must have two methods of egress. This includes an interior door and window or another exterior door.
If your bedroom doesn't have a window, we'll show you the alternatives to ensure the room receives enough light and fresh air.
Alternatives To Window in The Bedroom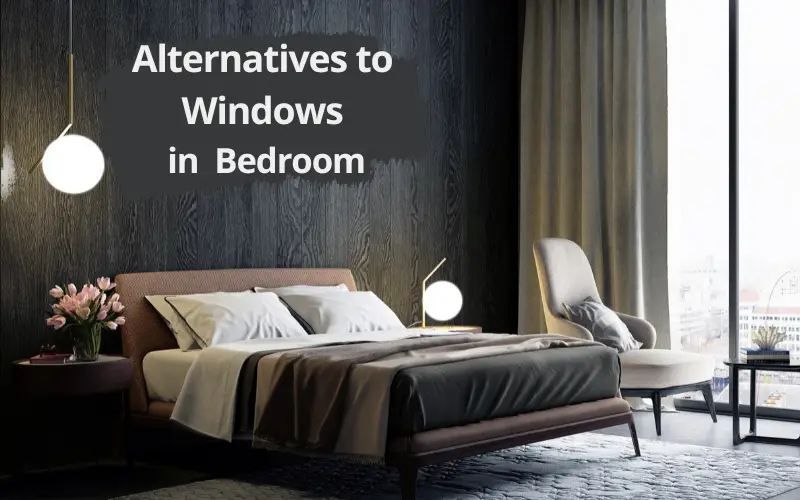 If you live in a state where it's not a must to have windows in the bedroom, you can consider the alternatives. Here are ways to achieve different things a window would bring.
Play Around with Light Colors
It will look smaller and darker if your bedroom doesn't have windows. But you can play around with light colors to brighten it up. Paint your bedroom walls white or a lighter shade of a darker color. Also, ensure the ceiling and floors have the same paint color.
But you can add darker elements like furniture or bedding to create contrast. For example, you can have a light-colored bed with navy blue bedding.
Introduce A Faux Window
A faux window can also help brighten up a bedroom without a window. The stick-on-wall decal comes in different views, giving you a great view of the 'outdoors.' It also allows interactive sessions with animals depending on the artwork you choose.
You can check on Amazon: Click Here
Create A Great Focus Point in The Room
If your main need for a window is to look at the things around you, create focus within. You can use a bed or a faux fireplace mantel as a focal point within the room. A mantel can also add up as a source of warmth during winter. When creating a point of focus, use something unique but worth someone's attention. Let it also be able to brighten your day after a long night.
Add More Lighting in The Bedroom
A windowless bedroom will be darker most of the time. That's why you need to introduce more lights in the room. Consider introducing ambient lighting through a table or floor lamp, creating a cozy feel in the room.
Don't forget to add ceiling fans with lights which will make it easier for you to read in your bedroom. But daylight decorative bulbs on the walls will brighten the bedroom more than normal yellow light can do.
Install Mirrors on The Wall
Another way of making a bedroom with no window look different is by installing mirrors. The mirrors will help reflect light into your bedroom, making it brighter. It will also make the room look spacious. You can install various mirror designs to help uplift your bedroom's look. Choose a frame with your preferred color and place it strategically in the bedroom. But you can also use mirror furniture or closet doors to create these effects.
Bring In Plants
Your windowless bedroom will have a new face if you introduce plants into the room. Plants will help add life by supplying you with enough fresh air. Go for green potted plants that you can change their location at will. You can bring in plants like mother-n law's tongue or peace lily, which help recycle air and absorb harmful air in the room. Since plants need light to grow, you can use grow light to help yours thrive in a windowless bedroom.
Add Metallic Accents in The Bedroom
When it's not a must to have windows in your bedroom, but if you want to keep the space brighter, consider using metallic accents in the room. Go for a metallic frame for artwork pieces you want to put on your bedroom wall, or use silvery décor in the bedroom. Also, make the hardware on your door or wardrobe have a silvery look to make the room brighten up.
You can check Metallic Accent Art here: Click here
Consider French Doors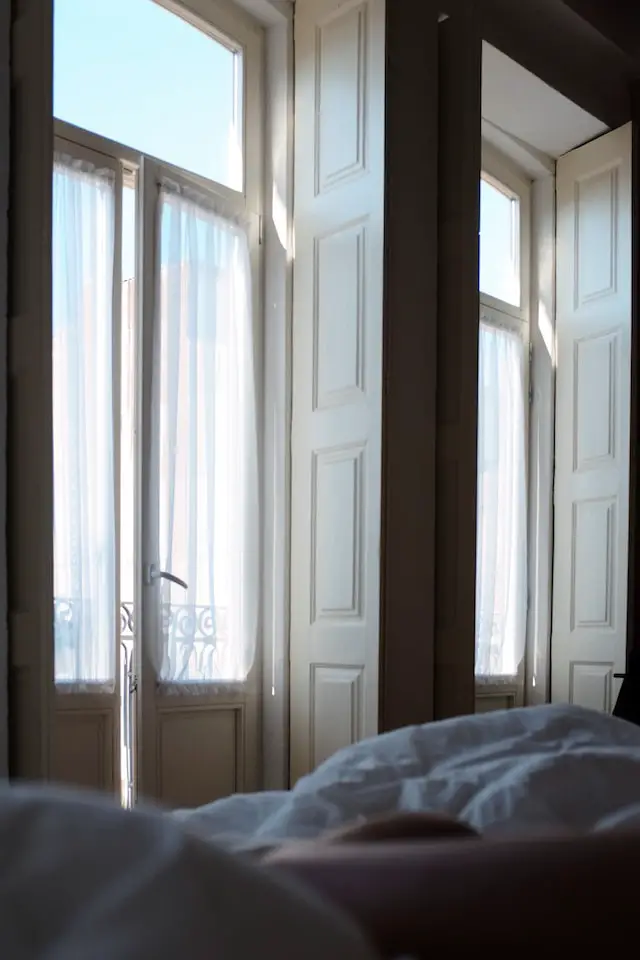 French doors will give you enough space to peep outdoors and get enough ambient light. But you should also fix the light inside the bedroom to keep the room bright all day long. If you opt for these doors, ensure you keep them open whenever you're indoors to supply enough air. You can also paint it white to make the room look more spacious and cleaner.
Add Skylight
You can also introduce a skylight in your windowless bedroom. It will help bring in natural light and give you an outdoor view without spending much money. Before settling for this idea, do thorough research and work with professionals when installing it.
You can check on Amazon: Click here
Go Simple and Be Clean
A windowless bedroom requires you to be extra clean to avoid interfering with the air quality in the room. You also need to avoid using heavy beds or wardrobes in a windowless bedroom as these will make the space more crowded. So, go for simple furniture that will make it look spacious.
Bottom Line
Having a windowless bedroom is not permitted in most states. But the states with no such requirement have codes you must stick by to ensure the room has a means of egress. However, this doesn't mean if your bedroom is windowless, you cant use it. Look for alternatives to windows like potted plants, and install mirrors and French doors to cover for this. 
Thanks for your feedback!